DSL Devices
From Indie IT Wiki
Default Passwords
http://www.cleancss.com/router-default/
British Telecom
Openreach VDSL Modem
ECI Openreach VDSL Modem for FTTC (BT, Sky, TalkTalk, Plusnet, EE)
Model: B-FOCuS V-2FUb/r Rev.B
http://www.ebay.co.uk/itm/272538787869

BT Hubs
User Guides and Manuals for BT Hubs
HomeHub 5
Will It Work With My Plus.net Connection?
Yes
Why Am I Having Trouble Changing The IP Address
The first 63 addresses are reserved, presumably for use with BT WiFi open access.
Try changing the address range to x.x.x.64 through to x.x.x.253 and the router address as x.x.x.254
DrayTek
General
Firmware Versions
Guest Wi-fi Network
Configuring DrayTek Vigor2830 for limited Guest Wi-Fi access
Schedule A Reboot
Create the reboot schedule:
Log in to the modem and open Applications >> Schedules
Click on an unused schedule (which are marked as x)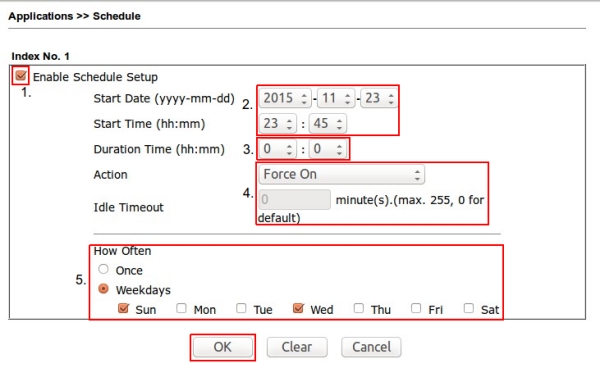 Tick the Enable Schedule Setup box
Set the Start Date and Start Time
Duration Time must be set to zero, failure to do so will cause the reboot to fail
Leave Action as Force On, and Idle Timeout as zero
Set the How Often to you requirements
Finally press the OK button.
Activate the reboot schedule:
Navigate to System Maintenance >> Reboot System >> Auto Reboot Time Schedule
Enter the number of the reboot schedule in to the box
Click OK to apply the schedule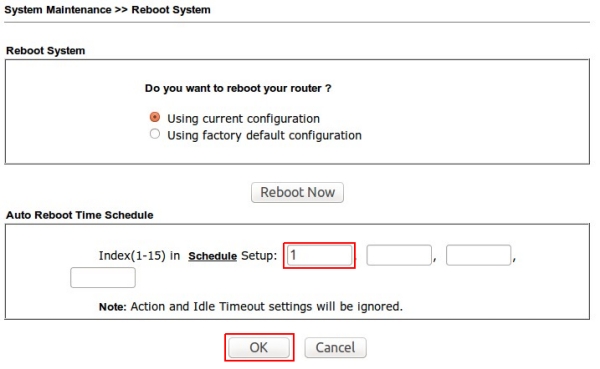 Thanks to DrayTek.
Vigor 130
Support Downloads - Current Firmware
Setting up with a Ubiquiti Unifi Security Gateway - see also this page.
"Any differences will be marginal and will depend on the cabinet you are connected to. If you are connected to an Huawei cabinet, the HG612 with a Broadcom chipset might possibly be faster than the Vigor with a Lantiq chipset. However, if you are connecte to an ECI cabinet, the Vigor might be faster."
Vigor 2760
DNS Problems
It could well be UDP packet defence or the DNS Cache table filling up.
UDP Flood Defence
Firstly, try disabling UDP Flood Defense to see if that cures it.
Firewall > DoS defense Setup > Enable UDP flood defense > UNTICK

Then, change the Threshold number for something bigger and relevant to your actual Download Bandwidth Rate.
Bandwidth  Threshold (packets / sec)
   20M             2000
   60M             5000
  100M             8000

http://just.draytek.com/index.php?option=com_k2&view=item&id=5315&Itemid=293&lang=en
DNS Cache Table
...
Auto Logout
Auto Logout can be temporarily altered at the top of the left hand menu to either be off or a set time. Altering the Auto Logout by this method is temporary and it will re-enable itself after you have logged out.
Auto Logout can be permanently disabled under System Management >> Management >> Top of the left hand column in the right-hand pane >> Tick: Default:Disable Auto-Logout
DNS External
To alter the external DNS servers that the unit uses (by default it uses your ISP's defaults) you will need to undertake the following:
Log in to the modem's web interface
LAN >> General Setup >> DNS Server IP Address >> Fill in your chosen primary and secondary DNS choices
Log in to the modem via Telnet
Run the following command >> srv dhcp frcdnsmanl on
Log out of Telnet
To be on the safe side reboot the modem
Thanks to Draytek.
IPv6
If you are in a backwards country that does not support IPv6 then you can disable it by the simple click of a button, which is located above the lefthand menu. Click it once you will be asked to confirm and reboot the modem.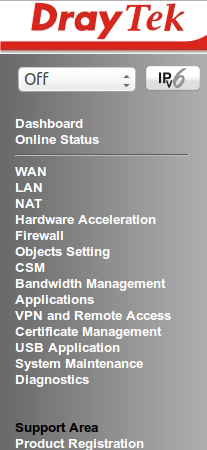 NOTE: The picture above shows the button after IPv6 has been disable so is in monotone.
Firmware Upgrading
After downloading and extracting the firmware you will have three files, a readme and two files that match in file name but have different extensions.
.all which will upgrade the firmware and retain all of your current settings
.rst which will upgrade the firmware and reset the modem back to factory defaults
Downloads
http://www.draytek.co.uk/support/downloads
Vigor 2830
How to enable ping from WAN
Locate "System Maintenance" from the sidebar and "Management" from below that.
On this page you should see a "Management Access Control" and a checkbox titled "Disable PING from the Internet". You want to untick the checkbox and click "OK" at the bottom of the page.
The page will refresh and that should be the router accepting ICMP ping requests! No reboot necessary! :)
http://iain.it/routers/how-to-enable-ping-from-wan-on-draytek-vigor-2830
Fix Network CRC Errors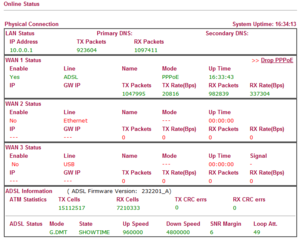 You can change the mode of the ADSL connection. Normally it is set to 'Multimode' which will mean it determines the best mode it can achieve... or that's what it should do!
When the Multimode chose 'ADSL (995.3)', there were lots of RX CRC Errors and after a while, these build up to a point which stops the connection from working.
To fix this, change the ADSL Mode down to a lower level, such as G.DMT.
Set Up 3G Modem on O2 As Backup Connection
WAN > General Setup > WAN3 > Enable: Yes > Active Mode: Backup > tick WAN 1 > OK
WAN > Internet Access > Access Mode: PPP > Details Page > 3G Modem: Enable > APN Name: m-bb.o2.co.uk > Apply

Mobile Apps
Origo ASR-4100
Default Login
username: admin
password: epicrouter

Plusnet
Sagemcom 2704n (AKA Hub Zero)
Expert Mode
Probably in an effort to minimise problems with providing front line tech support Plusnet have started supplying the Sagemcom 2704n modem.
On logging in to the modem's interface there does not appear to be any way to change the units IP address or manage the DHCP settings. This is of course perfectly fine for the majority of users but if you have more complicated networking needs this is not helpful.
There is however a hidden side to the modem which after logging in to it via the standard interface can be accessed by typing the following in to your browser's address bar:
192.168.1.254/expert_user.html
Within this hidden interface are the pages to change many settings you would normally expect to find.
The unit supports DSL and FTTC, however FTTC is only supported when used with British Telecom's VDSL unit.
Thanks to Plus.net Community Forum.
Backup Configuration
Accessed through the 'Expert' mode.
Hub One